Onwards to actual historic districts. Well, sometimes they had been destroyed and rebuilt to look historic (actually the case with Magome from part I). Other times they were legit historic buildings but moved to be in a village together even though that wasn't historically accurate (hi, Hida Folk Village!)
All the parts:
Japan part II: historical (looking) buildings in the Japan Alps
Day 3 part 2: Matsumoto, February 20
The 11:00 train got us to Matsumoto by 12:04. The distance from Nagiso to Matsumoto is about 100km. Turns out the car takes about 2 hours, and includes 78km on 中山道/国道19号 i.e. the Nakasendo/Route 19 (now in car road form I guess) and 15km on toll roads; I couldn't estimate how much that costs, but the train costs ¥1820 without a rail pass. Anyway, the route is in the mountains. Japanese Limited Express trains (Shinano No. 7) go through the mountains fast enough. Presumably cars have to take the twists on the Nakasendo more slowly than the trains which go through the tunnels through the mountains.
Castle
Matsumoto is still surrounded by mountains and contains Matsumoto Castle. According to Wikipedia, that castle is one of Japan's "premier historic castles", along with Himeji Castle, which we visited in 2005. The castle itself, though, is in the plains. It's not immediately obvious to me what it protects. Probably legit though.
The castle is 6 stories high and surrounded by a moat. Looks pretty legit. There are stairs that definitely don't meet code because of their excessive height (up to 40cm step height, 55 to 61° incline). Also they come with signs "don't take pictures near the stairs". I wonder how many people have fallen (or been pushed) down the stairs.
From the castle we get a good view of the city and the surrounding mountains, or clouds, as the case may be. It definitely comes with windows for use in planning. Also for shooting things out of. Speaking of shooting, the castle also comes with a lot of guns being exhibited, as well as castle construction information.
There were some staff dressed up in historic costume. We didn't ask them why they were doing it (presumably to give some historical colour), but we did get some pictures.
The moat was a good place to photograph some waterfowl (gadwall, coot, mute swan, eastern spot-billed duck) but the real star was the black kite that was enjoying its lunch on top of the castle. I was looking at the castle roof and noticed a bird and then also some flying feathers. The binoculars and the 100-400 showed more detail. And then I ran over to the other side of the castle to avoid backlighting, giving the picture we see here.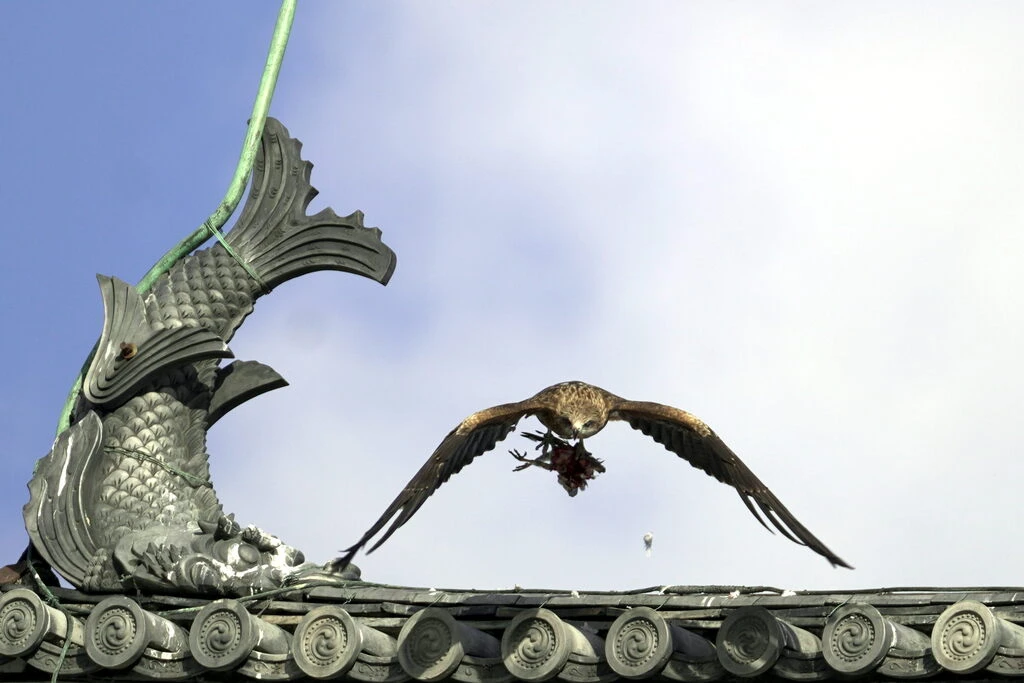 Shrine and Frog Street
We also saw the Yohashira-jinja Shrine and Nawate-dōri. Google says the shrine is a "small traditional religious shrine" but it's not that small. Nawate-dōri is the "frog street"; a webpage describes it as having a "subtle but recurring frog theme". You can buy knick-knacks on that street; we didn't find it that interesting, but the samurai frogs in battle sculpture is something to see.
Food
It was really cold but MP still wanted an ice cream cone. I had a tasty fish croquette for lunch, and then dinner at a sort of weird restaurant next to the train station which called itself an izakaya. Ordering at the dinner place was through the phone and the order wasn't quite what we had meant to order (we got two of a dish that we ordered one of; they didn't overcharge us, though). There were a bunch of places in Matsumoto advertising horse meat, but I'd seen a news article about the horse being exported live from Canada with dodgy animal care standards and maybe that's not so good.
Onwards
It was cold and we had seen all we had wanted to see in Matsumoto, so we went to the restaurant early, and then took the 2hr highway bus to Takayama. It was dark so we mostly missed the mountain views on the bus. I'm glad we weren't driving in the snow over the mounain passes. The bus also stopped at some onsen and, I think, some adventure destinations. There were just 3 of us on the bus. It's also much more direct than any train routes, and cost ¥3500 per person.
The bus dropped us off at Takayama station, and we walked 1km in the snow to our hotel, the Minshuku Iwatakan, which featured fancy baths. We caught up with our bags which we had sent from our hotel in Nakatsugawa, for a modest fee of around $30 for two bags. Well worth it to avoid lugging them on the Nakasendo!
Day 4: Takayama, February 21
After going back to take a picture of the baths (we'd enjoyed them the night before), we checked out of Iwatakan. We got a ride to the train station in their van. I guess it was the owner driving us. At the Takayama train station, we left our bags in the coin lockers so that we didn't have to carry them around all day, and could just leave from the train station once we were done with Takayama.
Despite the snow, I noticed quite a few bikes in Takayama (and elsewhere in Japan!)
Miyagawa Morning Markets
Food markets are one of my favourite things to go to. We had quite a good croquette and bao. There was some sort of donut like food, also excellent. And a decent croissant. The knickknacks at the stalls are generally of no interest to me. (In Kitchener/Waterloo, St. Jacobs has knickknacks and Kitchener much less; I like Kitchener better). There were stores with goods labelled "made in Japan no China", unlike the goods I spotted in Magome.
Sunmachi Historical Houses
Takayama is apparently known as "little Kyoto of Hida". Yes, they have that historical wooden house look. But I think Magome and Kanazawa are better. At least when we passed by, not much was open. The other places have a lot of commerce going on from these old houses. Did not exceed expectations on our first pass. Was a bit better around lunchtime when there were more people around.
Festival Floats Exhibition Hall
The floats, on the other hand, definitely exceeded expectations. Wow! Twice a year there is a parade in Takayama where they bring out these centuries-old floats. You can see a bunch of huge sheds around town which contain floats. They're just floats, right? No, they're super fancy rolling sculptures with detailed moving figurines and lots of decorations.
Next door, associated with the same museum, there is also a bunch of scale models of Japanese buildings. Pretty impressive too, but the floats are really next level.
We went to lunch at Logica Docco, a pasta place. I had some great beef and potato pasta there.
After that, we stopped by the Takayama Jinya and learned about the lives of minor bureaucrats in the Edo era. Interiors were spartan; MP notes that the historic Chinese look is often more opulent.
Hida Folk Village
We walked to Hida Folk Village, which was on the outskirts of Takayama. They had relocated a collection of historic peasant buildings from different parts of Hida to make a synthetic village here.
My number 1 discovery in Hida Folk Village was shoehorns. Because you can't wear shoes inside these buildings, you end up taking off and putting on your shoes a lot. Sandals would be better, but it's snowy. Historically people did still wear straw sandals even for long-distance walking. Probably not the most ergonomic. Anyway, shoehorns really help with putting one's shoes back on. MP had boots which were much more difficult.
Aside from that, the buildings showed how people used to live. The whole thing about a folk village is that it is about how average people lived. We saw the bureaucrats in town. Presumably they were more comfortable white-collar jobs. This was peasants. There was a picture of a visit by the then-Emperor Akihito (now Emperor Emeritus and described as such on the picture caption) in 2001. But, usually, peasants.
The main industries were logging (like Quebec) and silkworm farming. Hida was not an agriculturally productive area: too much winter and not enough fertile soils, I guess. It seems like it was pretty tough to make a living. I complain about New Zealand housing being cold, but I can't imagine the Hida buildings being warm either. They really didn't have insulation. At best they had wooden floors, though sometimes they had earthen floors to facilitate working on them. Lots of straw and silk.
They had fires, but then was there a way for the smoke to get out? It said that they kept fires going continuously, even today, so that there would be enough humidity to preserve the wood, but these fires that we can see today are not for the heat, just for making humidity. No one lives in the buildings today either. I saw a hole in one ceiling which could perhaps serve as a chimney. There was text that said that the smoke went out through the roof. Today, there are a bunch of fire alarms and extinguishers everywhere. Wooden houses and fires. Right.
Onwards to Kanazawa
We then took the bus (late) back to the train station and the train to Toyama, followed by 22 minutes on the shinkansen to Kanazawa (55km; would be 1 hour by car). I don't think we took the Hida Limited Express; instead, we took some slower trains that still got there earlier because they left earlier.
We admired some snowy Alpine scenery along the Miyagawa River, complete with paravalanches. Our train to Toyama did not have assigned seating and it's a cultural no-no to eat on such trains, so we waited until we got to the shinkansen to eat. The ekiben I hurriedly bought at Toyama was a bit of a miss.
We stayed at the square hotel in Kanazawa, which was more Western-style. We'd actually stay there for 2 nights! Luxury! The room made good use of space; it was pretty small but felt bigger than it was.
Day 5: Kanazawa, February 22
Fortunately, we'd gotten in to Kanazawa early (by our standards) the day before, arriving at the hotel at 19:30 (still after dark at this time and this latitude). That was fortunate because MP had a volunteering-related early morning call the next day. The square hotel room (ok, it wasn't even square in shape; let's say the room at the square hotel) came with a rounded rectangular ring light, which was useful for 5:30am calls!
Kanazawa Castle Park and Kenroku-en Garden
A few hours later, we got out to the park and the garden. We did not go to the castle itself, but the castle walls were solidly built. Good masonry. Reminds me of Cusco in Peru.
There was a spectacular snow scene at Hisago-ike Pond. Then we did pay to get into the garden, which is extensively maintained: for instance, they have staff brushing the snow off the trees.
Ōmichō Market
This is an indoor market with a bunch of stalls, mostly seafood. There was a restaurant with a long line which we joined for 2 minutes and then decided not to. I think it was hairy crab. Instead we had some tasty sushi at Ishibaya inside the market.
More old-looking buildings
We toured both the Naga-machi old samurai district and the Higashi Chaya district, which have old or old-looking buildings, including samurai houses. We also went outside the Ninja temple, though did not visit. I went back to the Higashi Chaya District at night to get some shots.
The old-looking buildings again have that old Japanese building look, like Magome, but this time within a city. Also, there is a kimono rental shop and women seem to rent kimonos and then take pictures, presumably for the 'gram.
We stopped by the Imoya Cafe next to the Ninja Temple. There was sweet potato ice cream, sweet potato chips, and surely other sweet potato based food items that I forget now. I don't remember any non sweet potato items. Well, that's one concept to have for a restaurant.
Fuwari
This might well have been the best meal we had in Japan. We walked in and got a table for 1.5 hours only, right when they opened, but that was more than enough to have grilled meats of various sorts, croquette (always a favourite), and sashimi.
Finally, back at the hotel, we had the kiwi dip that MP had imported the reduced cream and onion soup for.
Day 6: Train to Sapporo, February 23
I wanted to get to Hokkaido for skiing and cranes. That will be the next post. Here I'm going to say how we got to Hokkaido.
Other resources:
The Original Hokkaido Plan
Hokkaido is far from Kanazawa! Komatsu airport KMQ is near Kanazawa and accessible by bus, but the flight schedule from KMQ to New Chitose (Sapporo) CTS is limited and flights kind of expensive. So, I had the idea of taking the train to Tokyo Haneda HND and then the plane to CTS. That would have been 7 hours of travel, including 2.5 hours of shinkansen to HND, 40 minutes of Limited Express from CTS to Sapporo, and 1.5 hours of plane from HND to CTS, plus wait time.
Delayed!
But, the night before our flight, I got email from Air Do announcing a 100 minute delay. Because we were flying relatively late in the day (yet still not the last flight), the delay would have gotten us to CTS after the last train to Sapporo, and then it would have been super annoying to get to town (basically a $100 taxi). MP also noticed some airport hotels, but we already had a hotel reservation in Sapporo.
Subject: [AIRDO] Notification of delay with your reserved flight
Date: Thu, 23 Feb 2023 00:05:48 +0900

Thank you for choosing AIRDO.

Departure time for the flight reserved under LAM PATRICK's name is expected to be delayed
100Minutes  due to ship shortage.
We apologize for any inconveniences this may cause.

We realized that we didn't really need to see anything more in Kanazawa. Two nights was a nice rest, but we only needed one day. And, there was a train route to Sapporo. So, we made a really last-minute decision to take the train instead of the plane. We'd be on the train all day instead of being able to roam Kanazawa, but that was OK.
The train takes 11 hours, including the shinkansen to Hakodate (through the Seikan tunnel to Hokkaido) and then a slow 4 hour Limited Express for the 311km from Hakodate to Sapporo. The car wouldn't have been faster for that segment either. The shinkansen is coming to Sapporo eventually.
| cost |    | description |
| --- | --- | --- |
| ¥36,860 | | train ticket without a Japan Rail Pass |
| ¥7,480 | | Kanazawa to Tokyo without pass |
| ¥1,990 | | from CTS to Sapporo without pass |
| ¥11,240 | | Air DO flight HND-CTS |
Without a pass, flight plus train is significantly cheaper than train. With a pass, train is free. About that cost! Air DO said that we could cancel the flight and get a refund, but the webpage said my credit card was expired. We tried to call them, but they didn't speak English (英語は話せません). But they do process cancellations up to 30 days after the flight, so I later visited Asako in Toronto and she called Air DO for us. We got our money back.
Onto the train
The train station is 1.2km from the square hotel. We hopped onto the bus and paid our ¥200. I said we were last-minute. We got to Kanazawa Station at 9:39.
Turns out that if you don't have the seat reservation process at the machine dialed down, that is not early enough to catch the 9:47 train from Kanazawa to Omiya (which is 36km out of Tokyo). If we had had the seat reservations, that would have worked. But it was fine. We took the 10:17 departure (high frequency rail!), had time to get some delicious ekiben, and the transfer was 18 minutes (generous for a well-marked shinkansen to shinkansen transfer) instead of 48 minutes. The latest train to Sapporo leaves Kanazawa at 11:57 and arrives at 22:37.
| scheduled time |    | stations |
| --- | --- | --- |
| 1017-1223 | | Kanazawa to Omiya |
| 1245-1630 | | Omiya to Shin-Hakodate-Hokuto |
| 1658-2035 | | Shin-Hakodate-Hokuto to Sapporo |
Since we were leaving the Japan Alps, we got some mountain views. This segment was 2h11 and covered 280km straight-line distance or 457km road distance, running at 270km/h.
The next segment was on the Hayabusa line from Omiya to Shin-Hakodate-Hokuto (e.g. Hakodate). This is the big one, covering 850km (!) in 3h48 and the 53.85km tunnel. VIA Rail's Corridor does Toronto to Montreal, 542km, in 5 hours 1 minute at its fastest. Basically 2.5× faster, and door-to-door time is faster than a plane.
We got ekiben in our 18 minute stop at Omiya which was pretty good. The train was completely packed near Omiya/Tokyo (couldn't even get adjacent seat reservations), but as we got closer to Sapporo, people got off and few people got on. The CO2 level got to 1500ppm and the temperature was too-warm; both dropped (CO2 to 900ppm) as people got off. Most people wore masks, though some foreigner-looking people didn't. There are still some foothills on this segment.
Actually the train was so packed that there was a mom with a lap child; the lap child was in my seat. I needed a seat so I had to make the lap child actually occupy the seat. Communication was a challenging and the guy in the next seat facilitated. As soon as enough people got off, we shuffled seats and the child got its own seat again, and eventually I could take a seat next to MP.
One thing about Japanese trains is that I don't remember any ticket checks. They know who is supposed to be in the reserved seats, I guess, and there are fare gates. Probably there are ticket checks in unreserved seats.
Another thing is urinals in trains. I've never seen that before.
The final segment was Shin-Hakodate-Hokuto to Sapporo. Well, that ticket would be cheap if we had to pay for it piecemeal, at ¥1580. But it's not really as good as other Japanese trains. It left 30 minutes late and arrived 40 minutes late, covering 281km in 3.6 hours. This was the longest train ride on our trip. Still faster than driving (4.5 hours), but the Shinkansen will be faster. Ran into some Canadians going snowboarding (one from PEI!). They were hoping to catch a tight connection from Sapporo. That didn't happen.
There was a cat continuously meowing on the train to Sapporo.
Arrival in Sapporo
We finally arrived in Sapporo at 9:26pm, 11 hours after leaving Kanazawa. Kanazawa was snowy but Sapporo was definitely still winter. It reminded me of Montreal, except that Montreal has better sidewalk snow removal. Sapporo doesn't seem to have municipal snow removal.
Walking to our hotel, I may have gotten lost in the vast underground city and walked in the wrong direction for a bit. I also thought I'd try McDonald's in Japan and had a fried chicken sandwich. It was ¥450 but unmemorable.
We stayed at the Sapporo Clubby Hotel, which had a very 80s feel to it, complete with radio. The room was pretty large but dated. Staff did speak English well. The McDonald's wasn't enough and we made a 7-11 run for additional food, finally getting in at 11pm. We ended up staying up pretty late in the end.
---