Mount Hopeless attempt, August 25-27, 2023
Participants: me, Brendan P, Gracie S, Dan W, Andrea W
After failing to get ferry tickets for a previous trip on Matariki weekend, I saw this trip on the NZAC Wellington schedule and offered to lead it. Between the Alp 1 trip that was posted for Tapuae-o-Uenuku and the Alp 2 trip for Alarm, we got 9 gung-ho participants, so 5 for Alp 2 and 4 for Alp 1.
The Alp 1 trip all fit in a car and all came on the ferry together, while for the Alp 2 trip, everyone made their own way to the South Island; I had prepositioned my gear to come on the ferry with the Alp 1 trip, and then took the plane from Queenstown to Wellington to Blenheim. We then had two rental cars (one car would not fit the five of us) and got ourselves to a great self-contained unit at the Blenheim Bridges Holiday Park—pretty posh. Three of us thought we were coming back on Sunday night and booked on the Bluebridge.
Planning tip: it can be cheaper to rent two cars in Picton than to bring a car on the ferry.
We talked for a while on Thursday night about whether to do Alarm or whether to divert to Nelson Lakes. In the end, the lack of a specific avalanche forecast, a persistent weak layer, and the 70 river crossings, combined with the Kaikouras not actually being more appealing than Nelson Lakes, made the decision to divert to Nelson Lakes quite easy.
Our other question was about whether the water taxi would take us across Lake Rotoiti or not.
Tip: Texting Hamish, the water taxi skipper, can work even at 9pm.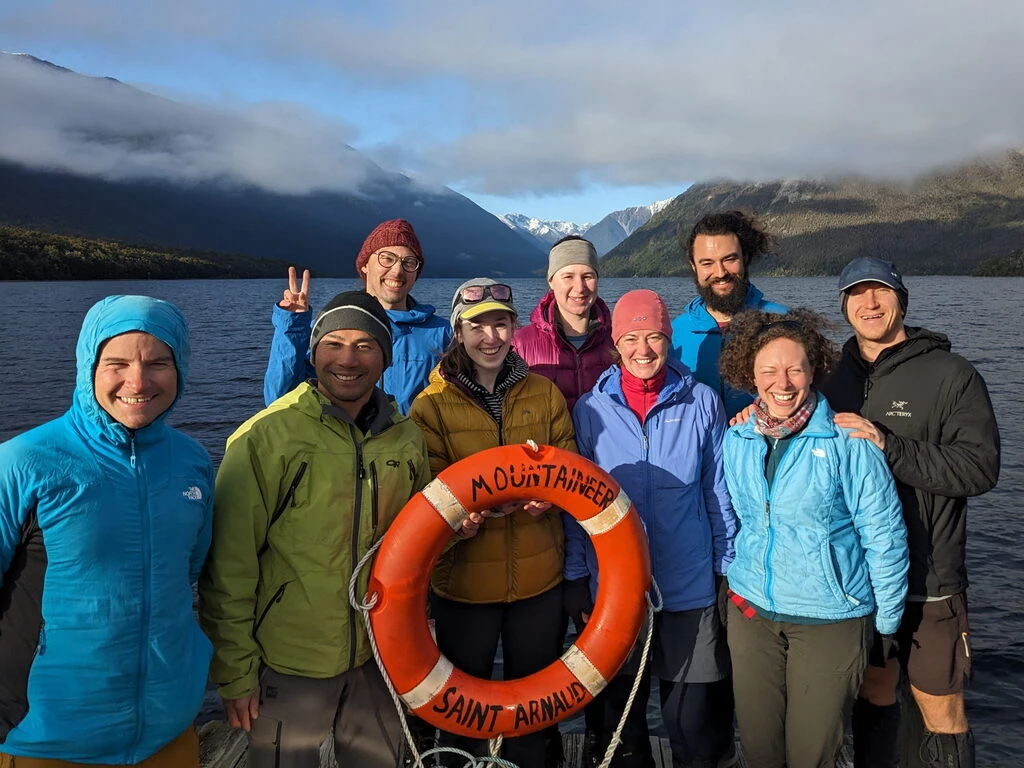 Day 1: To Cupola Hut
Meeting Hamish at 8:30, he told us that our fares would pay for a nice lunch on his upcoming ski trip (which is why we'd be walking out on Sunday). Our 20km walk to Cupola Hut on easy terrain was uneventful; almost all of the ascent was in the last 2km. Our packs were soul-crushingly heavy with ropes and gear. I had about 20kg. We passed John Tait Hut and finally got to Cupola at 16:30.
Day 2: Summit attempt
We managed a 07:15 departure for an attempt at Mount Hopeless via the SW Ridge. Over 9h moving time we travelled 6km with elevation gain/loss of 600m. We judged avalanche risk on our shaded aspect to be low, with minimal chance of loose/wet. Unfortunately the snow was crusty and sinky (like it had been at Wye Creek for our approach to Touchdown) and we got to 2000m elevation before turning around; summit is at 2300m. Not even close. We had two rope teams: the all-Canadian rope team of myself, Brandon, and Andrea; and the Dan and Gracie team. They moved much faster than we did. After getting back to Cupola Hut, we continued down to John Tait to save us time on the way out on Sunday, meeting up with the Alp 1 trip, eating our leftovers from Friday and helping the other group finish their supper.
Tip: Bring electrolyte powder to avoid cramps.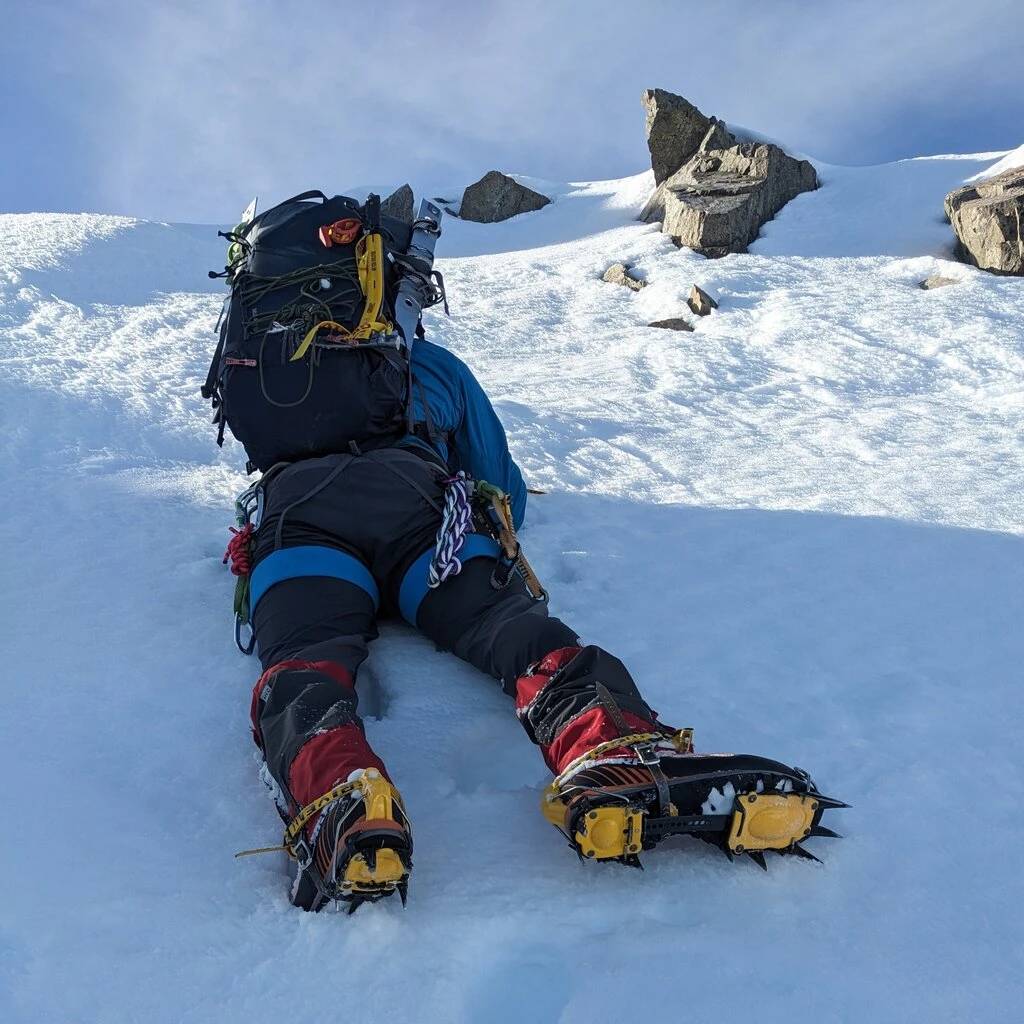 Day 3: Back out
We had to put our soul-crushing packs back on and do the straightforward and flat hike all the way back out to the road end. Anyway, it went pretty quickly. A million thanks to George from the Alp 1 trip for carrying one of our ropes some of the way! Also, Dan's ice axe turned up just outside the Lakewater Hut.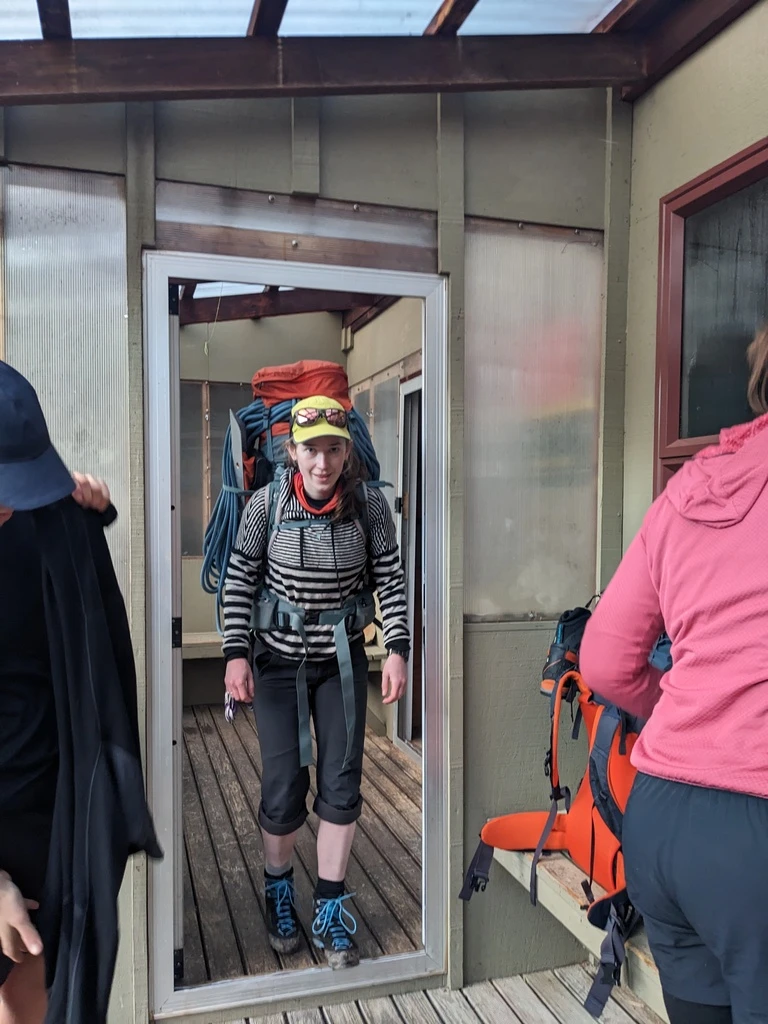 It turns out that one first gets signal again 6km from road end. I learned that our Bluebridge ferry was cancelled. I figured that nothing much would change in the 90 minutes it took us to get to road end.
Once we got to the road end, we took care of various important things like jumping in the lake and transferring gear. I also tried to find places on the Interislander ferry for the 3 of us who had a booking for the Bluebridge, but it claimed to be sold out. On the phone they told us to show up at the terminal and hope for the best.
Tip: Sometimes it works to just show up.
Turns out that they weren't planning to accommodate any foot passengers on the ferry. The walkway is currently under construction. BUt they brought the bus out to the ferry just for the three of us, fortunately. There were only about 45 passengers on the ferry in total. It was mostly a cargo trip. Anyway, thanks to Interislander for accommodating us after all! Bluebridge wasn't very helpful, but at least they refunded our money quickly.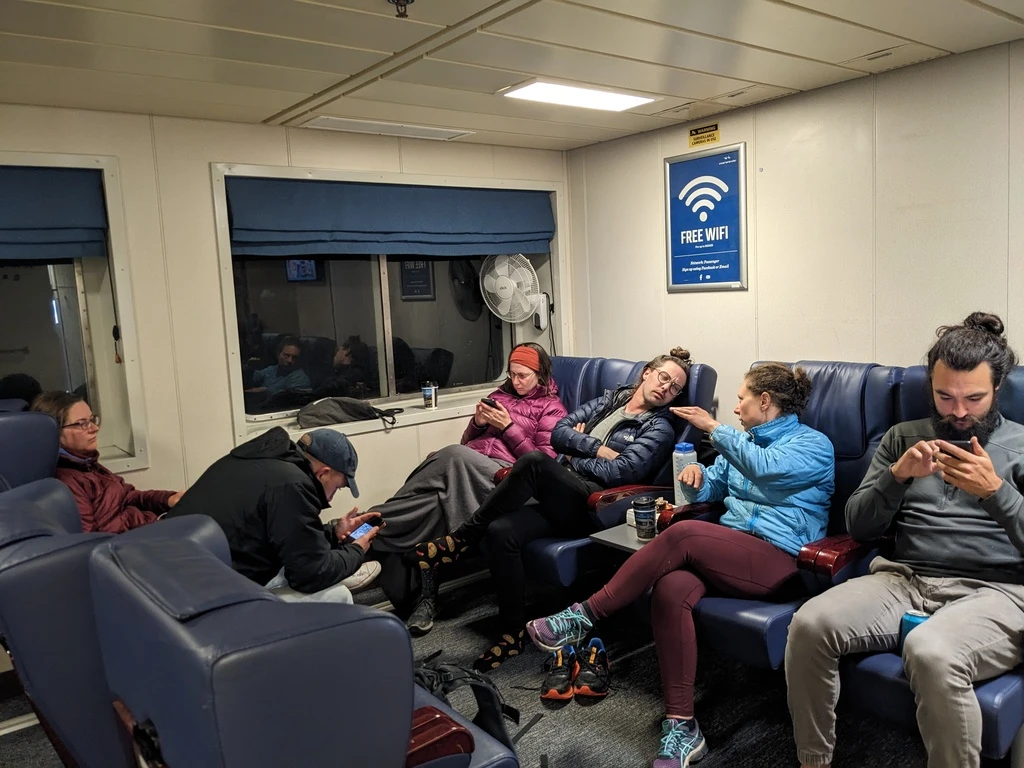 Things to do differently/increase chances of success
Order a less sinky snowpack
Have an extra day to break the track
Bring electrolyte powder to avoid cramps
Other options: start earlier, accept a later turnaround time
Bring less stuff on the approach, e.g lighter racks
---