The Plan
As I recall, when we bought tickets for our South Island December excursion back in late October, there were reasonably-priced tickets on January 1 and not really for the few days before that.
After buying the tickets, I then remembered why travelling during Christmas can be annoying: lack of car and accommodation inventory. I haven't really experienced this since 2019, but it's back, and perhaps even worse than before; car rental fleets are definitely smaller than they used to be, with an estimated demand of 65,000 and supply of under 40,000. Queenstown car rental prices were absurd. Anyway, we did manage to get a car from Wanaka Rent-a-Car.
Tip: smaller places that do not have Internet reservation systems can be more reasonably priced, especially if they don't do dynamic pricing (boo dynamic pricing).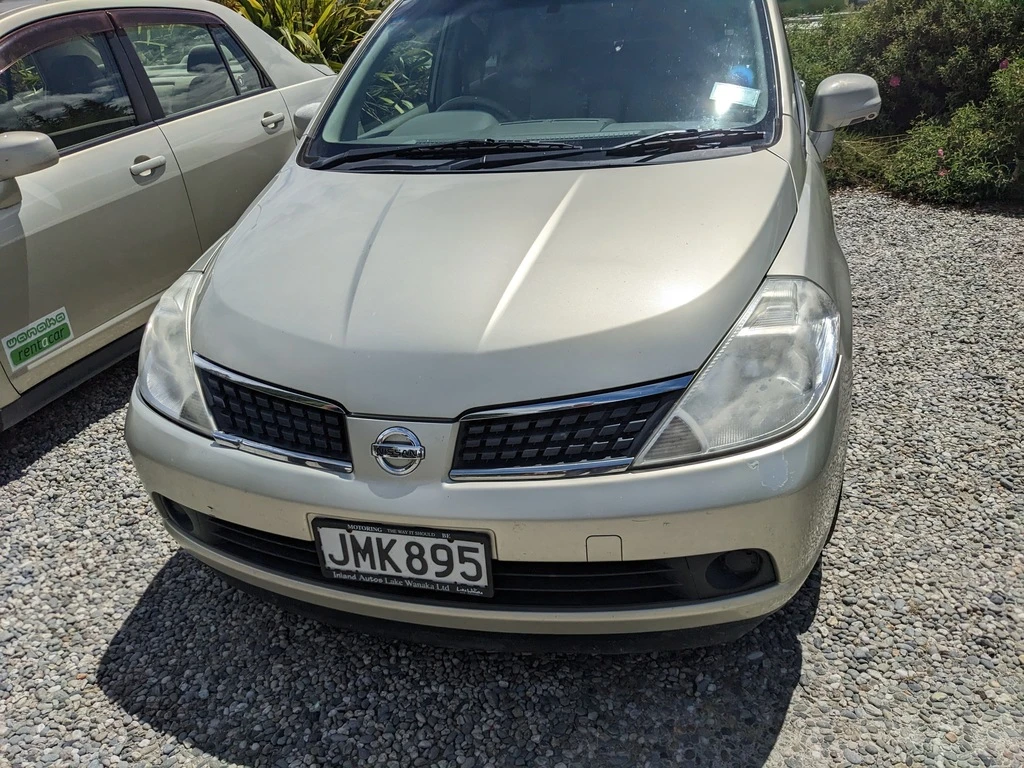 As for accommodation, Wānaka was impossible and I found a place at Dunstan Downs which at first glance appeared to have reasonable reviews. But look more closely (follow the link above).
We'd planned to camp at Dunstan Downs on the 29th, hike to "Fat Man's Lodge" on the 30th and back on the 31st, stay in a room at Dunstan Downs on the 31st for New Year's Eve, and then drive back to Wānaka (1h20), return the car, take the shuttle to Queenstown at 7:50am, and then fly back to Wellington at 12:50pm on New Year's Day. Not as brutal as a 6am flight out of Vegas on New Year's Day we'd done once, but close.
The Reality
Anyway, we arrived at Dunstan Downs at 9:30pm on December 29th after a third packed day in Wānaka. I'll write about that, and the rest of the trip, later. We checked in with the owner. "How far it is to Fat Man's Lodge?" "Four hours by horse". MP said she thought about saying something along the lines of "Oh, I forgot to bring my horse" but held her tongue. I did get a pretty good idea of where the start was, but she wasn't that helpful about saying where the lodge actually was. I also had a guess about that but it wasn't bulletproof. Since there was no Internet, I couldn't show her the map to confirm. The owner said "6000 feet elevation gain" but I think that it's actually a highpoint of 6000 feet in the high country, and only 3000 feet of elevation gain.
I will say that they were fair in only charging $40 for the camping because we didn't use a serviced campsite ($50) after all, just a tent spot ($20pp).
Before sunset, we set up our MEC Spark 2 tent next to our car and threw many things in the tent. Afterwards, there was yet more re-packing. This multi-activity trip had a lot of gear, including sport climbing gear, as well as a tent (backup on the hike and accommodation for one night).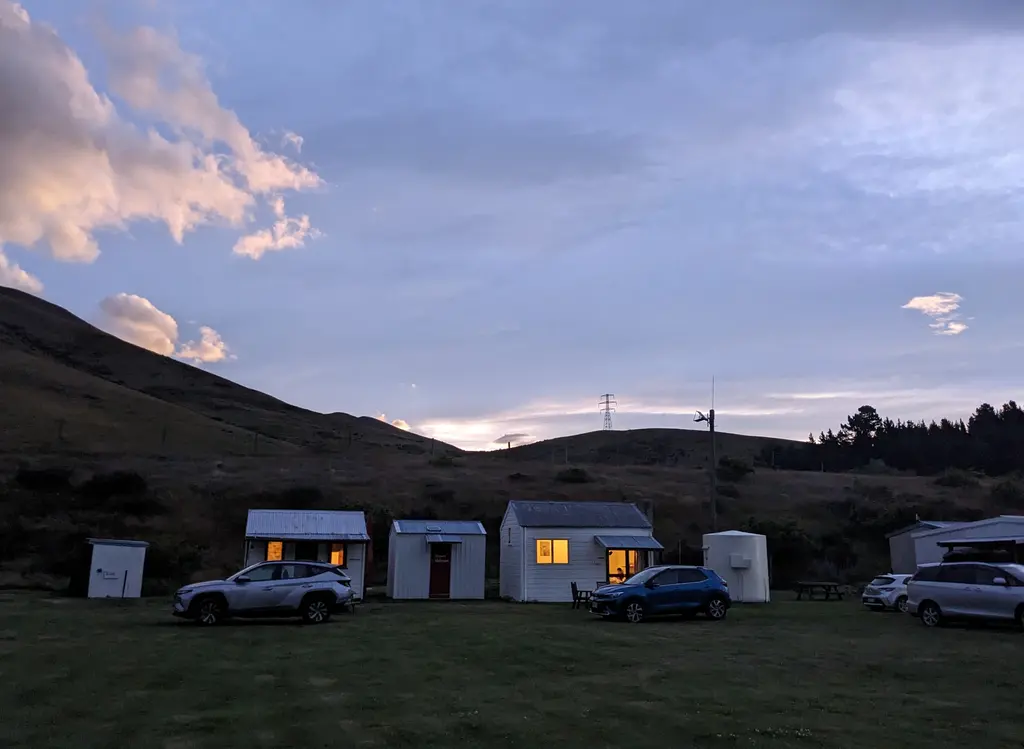 The kitchen did have Internet and some power outlets. We were running low on charge for devices; the car also wasn't reliably providing power, either from the radio USB port or the cigarette lighter. The Dunstan Downs lounge had more outlets, but it was occupied by a family when we were there, and we didn't even know what that room was that night.
Some poor guy was staying in the lodging which was immediately next to the kitchen and asked us if we were planning to cook. All we had to do was toast some bagels.
With the wireless Internet (the owner did tell us about that), we tried to find what information we could about the Fat Man's Lodge hike. There were some reports and itineraries for 4WD and horseback trips, but not really any other information.
Bailing
It was pretty cozy and dry inside the tent, even with a bit of wind and rain outside. But, the real issue is that Dunstan Downs is on the highway, and so there is noise from cars and trucks fairly often. Tents don't really protect from sound. I don't think even the cabin walls did, though obviously better than tents.
Based on my experience buying the plane tickets in the first place, I thought it would be super expensive to fly out on the 30th, and as I said, accommodation was impossible. But I thought I'd look just in case, and found same-day and next-day flights for NZ $150pp from Queenstown to Wellington.
We'd also been on the move since December 18th. There were no real rest days from December 20th through 30th. The closest was the descent from Mueller Hut on the 26th, but that was still 1000m of elevation loss. Otherwise, it was 4 days of hiking, a half-day of iceberg kayaking, 2 more days of hiking, and 3 days of climbing. The last day where we hadn't really done anything was December 19th, when we'd repacked, watched grebes, and drove to Makarora. We also had done some Japan travel planning in the Wānaka library (which was really prescriptive about where one could sit; teenagers here, kids there, no electronic devices in another section).
After some consideration, we bought Queenstown-Wellington 4pm tickets, bailing on the 30km Fat Man's Lodge hike and on spending New Year's Eve possibly right next to the kitchen and lounge at Dunstan Downs. There was also a shuttle to Queenstown at 11am and at 2pm.
On the road: go go go!
We were now racing the clock. We packed our tent and kind of threw everything into bags and then into the car. Here's a schematic showing how it went. More details below.
| | | |
| --- | --- | --- |
| 0730 | 2h00 | Wake up, decide to leave, buy plane ticket, pack (sort of) |
| 0930 | 1h15 | Drive from Dunstan Downs to Wānaka |
| 1045 | | Get gas at Caltex, drop off bags at Lakefront, see 11:00 shuttle |
| 1058 | | Return car at Wanaka Rent-a-Car, jog back to bus stop (5 minutes) |
| 1130 | 0h27 | Repack all bags for flights, call Ritchies Shuttle |
| | 1h30 | Eat lunch, photograph grebes |
| 1400 | | Shuttle leaves (with 4 passengers) for Queenstown |
| 1405 | 0h06 | Scheduled stop at Wanaka Lakes Health Centre; no new passengers |
| 1512 | 1h07 | Shuttle drives to Queenstown Airport |
| 1520 | | Change return flight to today |
| 1525 | | Check in for flight |
| 1526 | 0h27 | Get in line for security |
| 1529 | 0h21 | Call Air NZ; cancel one-way flight; refund confirmed |
| 1553 | | Through security; almost the last to board the flight |
| 1556 | 1h25 | Doors closed at ZQN; fly to WLG |
| 1721 | | Doors open at WLG |
| 1741 | 0h20 | Retrieved luggage; reached Airport Express stop at WLG |
| 1745 | | AX leaves airport |
| 1810 | 0h29 | We arrive at cable car station, cable car leaves |
| 1820 | 0h10 | Next cable car leaves |
| 1824 | 0h04 | Back home |
Dunstan Downs to Wānaka, and onto the shuttle
MP drove the car to Wānaka. After leaving the wifi at Dunstan Downs we were off the network for a while. All I could do was enjoy the high country scenery. Of which I have no pictures, because pictures from the car are always terrible, and we were trying hard to catch the 11:00 shuttle. That would give us just under 4 hours at the Queenstown airport, which would be ideal.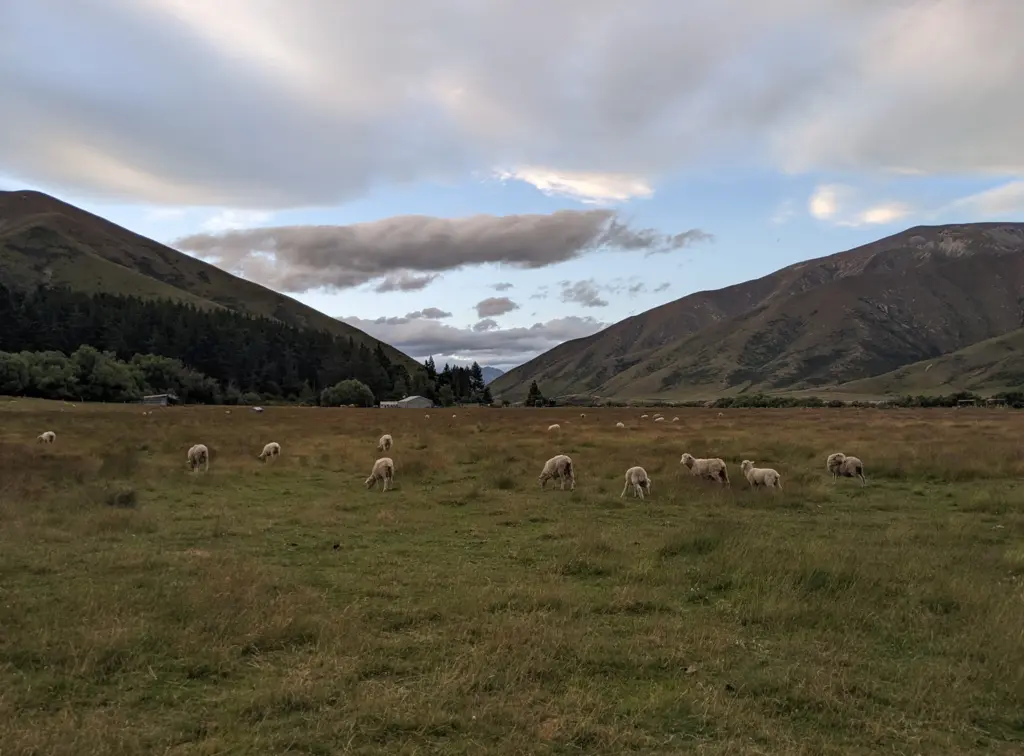 Once I was back on the network, I looked at changing for the 11:00 shuttle, but that was risky: even if we could catch it (ETA 1045, without accounting for the gas stop, and there was traffic), we wouldn't have a lot of margin. I figured it would be best to get to the shuttle and change it while loading our stuff.
But we had to put gas in the car ($41 to drive 192km) and return it to the car rental place. While on my way to return the car, I saw the shuttle very much ready to leave Wānaka. So much for that. 2pm shuttle it was; we should be able to catch the 4pm flight, though without much time at Queenstown airport.
I also learned that Sue, the owner of Wanaka Rent-a-Car, has a B&B (airbnb?) which was now empty, since she had kicked out the renters for having a party last night. We toyed with the idea of un-returning the car and asking to rent the apartment, but nah. Back to Wellington.
It took 30 minutes to properly re-pack our bags for travel. Then we ate our lunch, which was already prepared for our hike, along with some Kiwi onion dip, which we had planned for New Year's Eve.
I couldn't change the shuttle on the Ritchie's website. Fortunately it was a weekday and I could call their office and change the shuttle that way. They said the 11:00 shuttle ended up being full. Then I took more pictures of grebes and got back to the shuttle stop by 2pm.
From Wānaka to NZ 608
The nice thing about taking the shuttle rather than driving is that it's possible to use your phone and nap. Another passenger said that she thought Wānaka to Queenstown is the most scenic drive in New Zealand. Perhaps, but the curves make it not that easy to drive. (The less nice thing in a full shuttle is the 2000ppm CO2 level; this shuttle probably didn't get there, with 5 occupants.)
I thought I'd click on the "change your flight" button for the return flight, and found that it was indeed changeable, for a change fee of $50pp plus fare difference ($0 in this instance). Thanks Air New Zealand!
Tip: Air New Zealand sometimes makes changes possible even for the cheap tickets, especially during COVID. Seems like they've been allowing changes for fare difference during COVID waves, which is clearly the right thing to do. It's great that people can change their tickets, e.g. if they have COVID.
So, I had a flight for 30 December (freshly booked) and one for 1 January. The question was: should I change the flight and then hope that the 24-hour courtesy cancel works (getting back $300 and spending $100 on the change), or should I fly on the freshly-booked ticket and throw away the return leg? Things could go wrong.
The agent at the Air New Zealand ticketing desk at Queenstown couldn't do cancellations and wasn't very helpful anyway. I decided to do the change (didn't work with all browsers) with 5 minutes to spare, and then called in to cancel. I didn't add the 3rd checked bag before checking in and it thus cost me $45 instead of $20.
The wait time for an agent was about half the waiting time in the security line, in part due to MP's Silver status. The agent was unsure about 24-hour courtesy cancels but I talked her into it, and then I waited on hold until after going through security for her to carry out the cancel.
I knew that security wouldn't be fast during the holidays. Usually it's super fast in New Zealand, when there even is security (there isn't when the plane capacity is under 70). In the event, we barely got to the gate on time, having gotten in line about 30 minutes before departure, and out of the line about 5 minutes before departure.
Finally, after getting on the plane, I could relax. Well, the grebe photography was a time where I couldn't really do anything else. There was a Mount Cook sighting during the flight, too.
Wellington
Now the easy part. Luggage took longer than normal, but was still only 20 minutes, faster than Pearson. Normally I walk 8 minutes and take the number 2 bus back to the closest point in the CBD and then walk up the hill to Kelburn. That wasn't viable with the amount of crap we were carrying. Instead, we took the new Airport Express bus to the Cable Car. Fortunately, the Cable Car is operating until 8pm every day over the holiday period. Unfortunately we just missed a departure, so we had a 10 minute wait. Anyway, from luggage collection to front door was 45 minutes, with a worst-case Cable Car wait.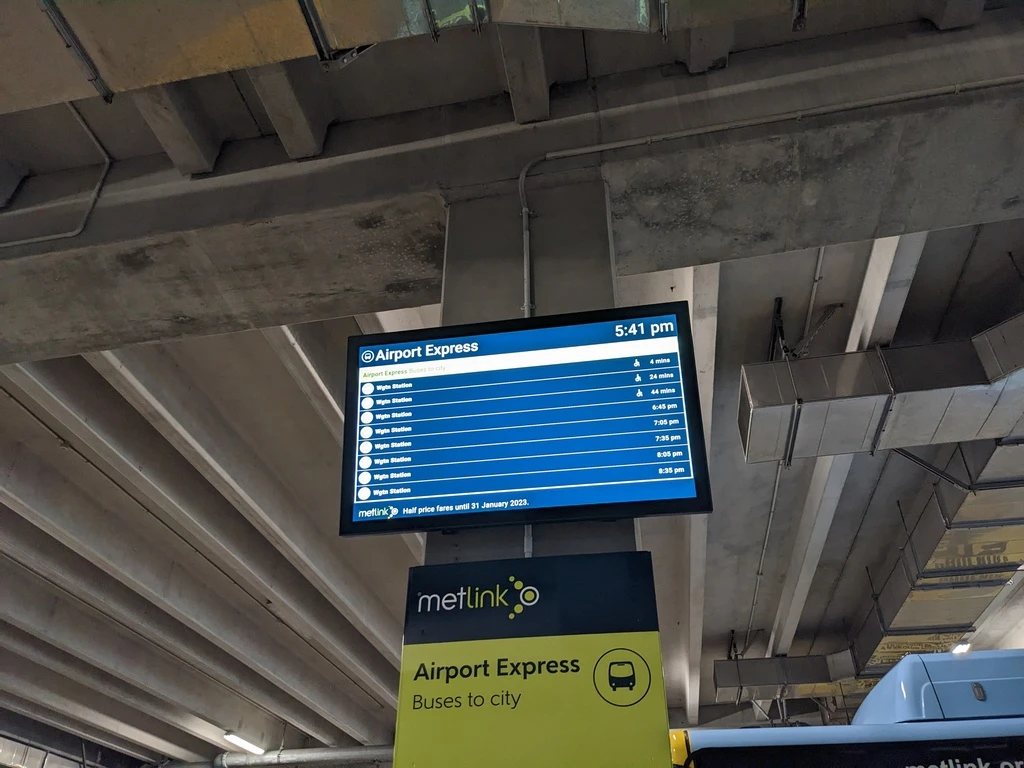 Cost analysis
Did we save money? Of course there was no credit for early car returns.
Savings: Fat Man's Lodge ($60), "Basic Double or Twin Room" ($73)
Costs: Flight change ($100), panicked extra bag purchase ($25)
About the same, and we got back to Wellington early, so that I could get warranty service for the Sigma lens (autofocus won't initialize most times) and we would have time to launder and re-pack our stuff. Plus, New Year's Eve in Wellington was actually a pretty well-attended event, even if Wellington wasn't quite as chocka as Wānaka.
The shuttle change was free, and there was no extra driving. MP had also thought about returning to Unwin Lodge, which would be another 2 hours round trip driving, $40 in gas, and $40 in accommodation per night.
Overall, I'd say it was worth it. Being flexible with plans. I recommend it!
---